URBAN YOUTH BOXING
EIR aims to introduce amateur boxing to the New Haven area youth, encouraging participation in sports, health and wellness among the areas youth, boys and girls alike. Based in Newhallville, we will support youth in the surrounding areas and across the City including Fair Haven, West River, Kensington Square, Edgewood Ave, and Newhallville communities. We aspire to integrate youth from across the city; building relationships and erasing the territorial lines upheld by youth in the City that too often perpetuate violence. Our goal is to encourage our children and youth to live healthier and more focused lives.
​
The United States Boxing Association will serve as a platform so that our program will foster sportsmanship, confidence, discipline, and teamwork. Participants in the Boxing program learn self-discipline, how to resolve conflict without resorting to violence, how to build and sustain meaningful relationships. This program also supports building self-esteem amongst youth, strengthening their social, emotional, and behavioral health. We use boxing to build character and positive social development among the children in the New Haven area. This extra low cost boxing club will provide tremendous unmatched form of exercise, build self-confidence, improve healthy living of the participants and encourage education with boxing as the basis. We can expect improved muscle tone, weight loss, and improved cardiovascular function. Our program provides an alternative to gangs and the street life.

​Activities and Methodology:
Students will participate in the following:
2-4 Grade

Demonstrate several activities
related to boxing.
Engage in sustained physical activity that causes the heart rate and breathing
​to increase.
Function independently and remain on task for a set period of time (e.g. Jump rope for 2 rounds).

5-8 Grade

​Understand and apply basic principles of boxing training to improve physical fitness.
Maintain moderate to vigorous physical activity for a set time increasing overtime.
Develop personal goals and strategies for improvement of selected fitness
​necessary to boxing.

9-12 Grade

Demonstrate the skills, knowledge and desire to monitor and adjust boxing activity level to meet personal goals.
Attain and maintain appropriate levels of cardio-vascular and respiratory efficiency, muscular strength.
Apply safe practices and demonstrate leadership.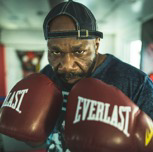 PERSONAL TRAINING
Train with a professional boxer/coach Solomon Maye and learn how to block, slip, throw punches and fitness training. Look better and feel stronger. Our personal training yields tremendous results for people of all ages and athletic ability.

Please note for all personal training: Gym membership is included with personal training and valid for duration of private training sessions. Boxing is a great way to stay fit physically and mentally. We offer a variety of classes and training in a new facility. We offer month-to-month memberships, with no commitments. Try our trial class FREE for one week! Classes are available five days a week and include Boxing classes, Youth Boxing classes, and individual training.

​Professionals and competing amateur adults train during the daytime hours. Personal training hours and vary, please call for availability. To schedule personal training please call us at (203) 691-6990 or stop by the gym.